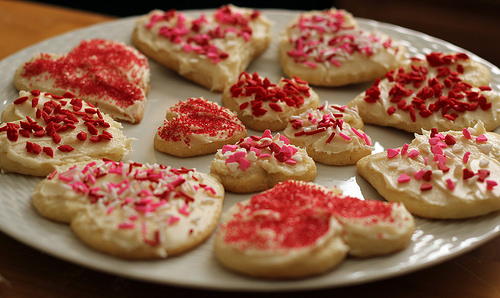 If you're like me, you plan to spend this Valentine's Day in bed watching Netflix with a box of chocolates you bought for yourself.  But your business doesn't have to do whatever is the business equivalent of lounging in bed in pajamas watching reruns just because your company doesn't sell teddy bears or chocolate-covered strawberries. There are creative ways to reach out to your customers on every holiday, including Valentine's Day.  Here's some quick tips to make this holiday special for your business.
Share the love.  

As a gesture of goodwill towards your customers, offer a promotional discount on your product.  It doesn't matter if you sell copy machines or car parts; you will creating a lasting impression on your customers the more you show them how much you value them; customers who feel valued are more likely to remain loyal to your business.  You definitely can't put a price on that.

Participate in social media trends.

  Twitter hopes to see #Valentine's Day trending this Friday.  Don't miss out on this opportunity to participate in a large-scale trend.  Engage with your customers; ask them what they will be doing this holiday or tweet a picture of the homemade office decorations.  Check out Twitter's 

blog post

 on how to participate in social media trends for holidays. 

Show your employees your appreciation.

  Customers drive your business, but employees are the lifeblood of any company.  When you're scouring the shops for that last minute gift for your significant other (or browsing through Netflix movies like me), consider getting a card or a box of cookies for your employees.  Something simple will still let everyone know you couldn't be doing what you're doing without them.  Your team will appreciate the gesture.
Holidays, no matter how overdone or cheesy, can be the perfect opportunity to remember the human side of running a small business: engaging with customers and appreciating the people who have helped you get where you are (Dun & Bradstreet Credibility Corp. is treating its employees to a Valentine's massage, which definitely makes me love them all the more).  You can use your reputation as a kind, thoughtful business owner to demonstrate to any financial lender that you have a strong customer base and a group of team members who are going to back you up no matter what.  So spread the love!  I'll be eating my chocolates.
Photo credit: cre, Flickr